KEARNEYSVILLE, W.Va. — In the hills outside Harpers Ferry, USDA scientists have been making fruit crops more productive and resilient for decades.
In turn, the innovations proven at the Appalachian Fruit Research Station, part of the Agricultural Research Service, help growers in the Mid-Atlantic and around the world.
The research station — which employs more than 45 people and has 500 acres of breeding trials — celebrated its 40th year with a field day on July 16.
Much of the center's work involves creating and improving fruit varieties.
For decades, scientists at the research farm have been developing trees with shapes best suited to high-density planting.
Researcher Chris Dardick is looking for varieties that bloom late to avoid frost damage and early-season pests.
He's also looking for super-sweet peaches and nectarines.
"They are different from other nectarines as they have tremendous flavor profiles," Dardick said.
Geneticist Ann Callahan has taken flowering a step further in plums.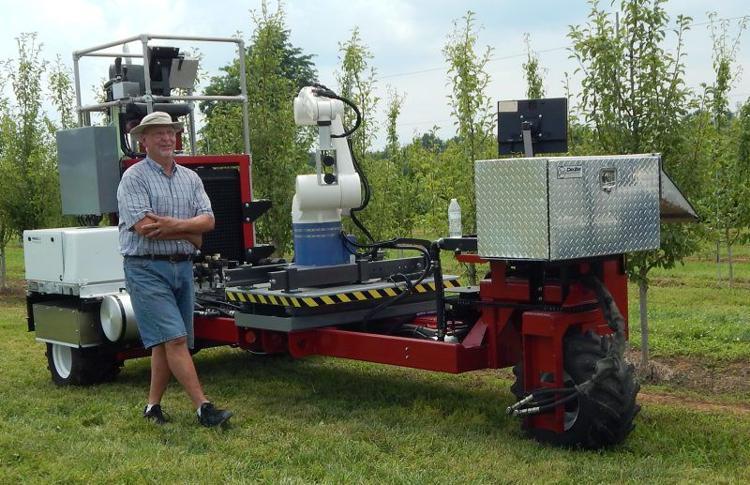 Using genes from another plant, her team developed a greenhouse variety that flowers in all but the hottest months and produces fruit year round.
Fruit trees often rely on environmental cues such as light and chilling to time their functions.
These trees have sped up the pace of breeding innovation.
"You can do things in five years that would normally take a lifetime," Callahan said.
One of those goals is to create a stone fruit without the stone.
A natural mutation leads fruit to almost no stone, but a partial pit can be worse than a regular stone.
"Luther Burbank swore that he had a variety with no stone, and we are trying to duplicate that," Callahan said.
The eminent plant breeder, who died in 1926, created 113 varieties of plums and prunes, according to the National Inventors Hall of Fame.
USDA has also created varieties of pears that are resistant to fire blight. The disease, destructive to pear trees, has held back production of the fruit in the Mid-Atlantic.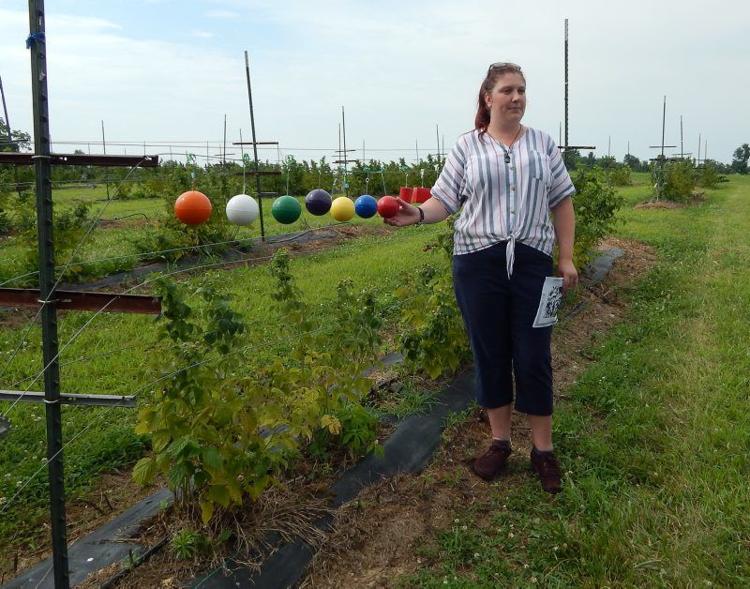 The new cultivars, like Gem and Shenandoah, also taste great, said Jim Schupp, a Penn State fruit researcher.
Schupp used to run the university's Fruit Research and Extension Center in Biglerville, Pennsylvania, which celebrated its centennial last year.
The center has also pioneered useful management strategies, such as a rotating blackberry trellis that folds down.
The trellis gets covered in the offseason to prevent winter kill.
The innovation has allowed blackberries to be grown in northern climes from the Midwest to Poland.
"More and more growers around the world are using this USDA technology," said horticulturist Fumi Takeda.
Engineering technician Scott Wolford is developing an automated tree trimming machine.
The equipment, which has a crew of one to two people, could replace labor, often in short supply on fruit farms.
The hard part has been designing a machine that sees and prunes trees as well as people do.
"As a human, trimming is easy, but mechanically this is difficult," Wolford said.
The machine can run regardless of the weather, though it does best at night when there's no sunlight to interfere with the sensors.
At $60,000, the machine could pay for itself in the long run, especially on larger acreage, Wolford thinks.
The center has taken up arms against insects too.
Researchers have worked on pheromones now used in traps for the brown marmorated stink bug, and are studying a parasitic wasp that is a natural enemy of the pest, said Dalton Ludwick, a postdoctoral associate.
Visiting scientist Laura Nixon uses bright red balls to kill spotted wing drosophila, a major berry pest.
The red ball is loaded at the top with wax and poison. "The moisture from the environment replenishes the sphere by melting the wax and the insecticide," Nixon said.
The tool developed for the apple maggot fly, which finds the balls visually attractive.
Turns out that the drosophila has similar taste in deadly baubles.
The balls should be placed about every 10 feet on the low wire of a trellis.
The system has not yet been approved for use with insecticides, but there's always erythritol, an artificial sweetener that is toxic to spotted wing drosophila, Nixon said.
Spraying will still be necessary to control large drosophila populations, but the balls do a good job with low to moderate pest pressure, she said.