CUMBERLAND, Md. — Bailey Thompson typically works with livestock for three to four hours every evening between winter and summer.
The animals are young when she gets them. They require months of care and attention to prepare them for market, she said.
Bailey, 13, of Flintstone, and several other students recently exhibited animals at the Allegany County Fair and Ag Expo's 4-H livestock sale.
Money she raised from selling goats and pigs at the event will go to her college fund, she said.
Bailey's love for animals has led her to want to become a veterinarian.
In addition to raising the livestock and earning money for her future education, Bailey said 4-H and the annual fair have benefited her in other ways.
"I've made a lot of new friends," she said.
Despite scorching weather during the livestock sale, the event was well attended, said Bill McKenzie, president of the fair.
More than 100 lots were sold with gross sales of roughly $90,000.
"We've had an excellent week — a lot of quality animals here to sell," McKenzie said. "We have a lot of great showmen with 4-H."
The 4-H organization creates a "tighter family unit" and helps educate the public on where food comes from, he said.
Lacie Ashby, 4-H educator and senior agent for the University of Maryland Extension in Allegany County, said this year's fair also included a new youth tractor driving contest with nearly two dozen participants.
"That was definitely a huge success," Ashby said.
Additionally, roughly 200 local students visited the livestock area during the fair's youth days, she said.
"Our 4-H members took (students) through the barn," Ashby said.
Another new event at the fair featured a master showman exhibit of beef, sheep, swine and goats. Participants honed their public speaking skills by talking to judges about the importance of agriculture.
"The kids did a fantastic job of stepping up to the challenge," she said. "Some had never shown all four species before."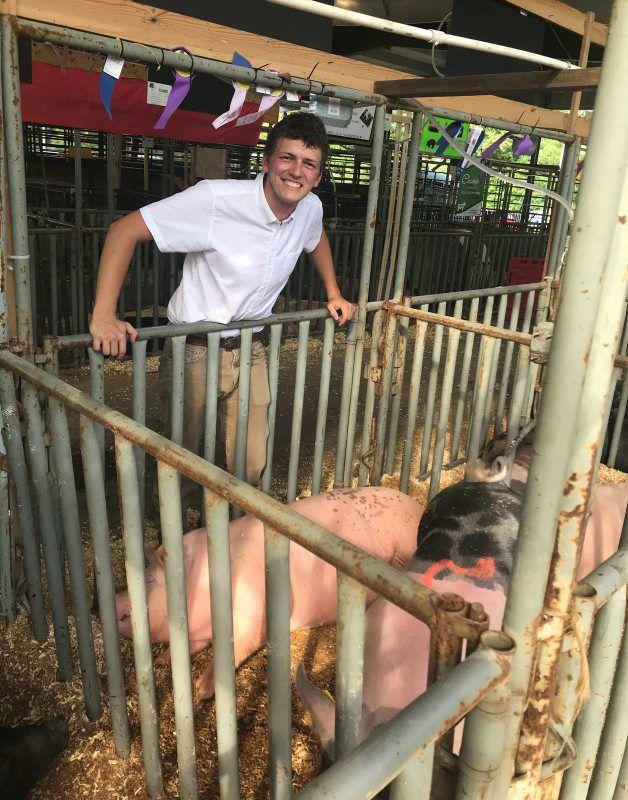 Kolby McCusker, 18, is an electrical engineering student at Frostburg State University. He has been a 4-H member for roughly six years. The program has given him many life skills, he said while preparing to exhibit goats and pigs at the sale.
"Patience is key when working with animals," he said.
Flintstone resident Brienne Willison, 13, also exhibited goats and pigs at the sale and hopes to pursue a career in veterinary medicine.
Goats can sometimes be difficult to raise, she said.
"Goats can get sick a lot," Brienne said.
Oldtown resident Megan Lawton, 10, sold rabbits and chickens at the event.
Challenges of raising the animals include expenses involved, she said.
"You have to buy their feed," Megan said and added her goal is to make a return on the investment. "It's exciting to sell them."
Flintstone resident Maria Eckard, 14, talked of the significance of the annual market sale, where she exhibited two goats she and her family bred.
"This will be the biggest profit of the year," she said. "I will figure out what I gained and what I've lost.This is all about learning."