Maryland farmers are finding a new source of income through a vacation rental platform. Hipcamp is similar to Airbnb, which allows people to rent out their homes, apartments and other private quarters for short stays.
But as the name suggests, Hipcamp focuses on camping accommodations.
The company was started in 2013, and slowly grew in popularity out West before making its way to the East Coast.
It has grown in popularity since the onset of COVID-19 and the creation of the socially distant vacation.
Hawkwood Farm's Hipcamp Setup For Outdoor Short-Term Rentals
Hawkwood Farm is a 90-acre farm nestled in the Appalachian Mountains of Maryland. The property, owned by Erin and Angela Aylor, is in conservation through the Maryland Environmental Trust and the Catoctin Land Trust. The farm has a small orchard and vineyard.
The Aylors' Hipcamp setup includes two sites. Meadowland is in the center of the field with directional stones and a 360-degree unobstructed view of the sky. The second site, Rainbow's End, is near a stream and spring-fed pond.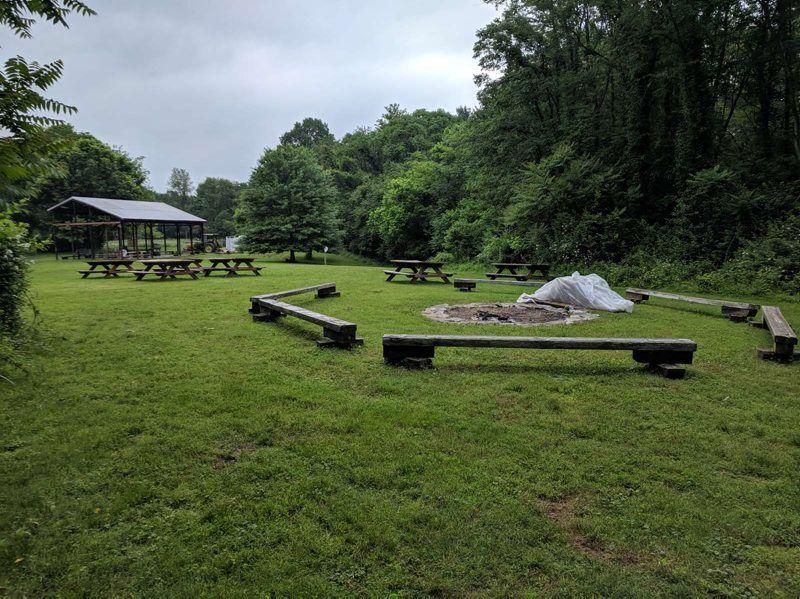 "We first heard about Hipcamp through a journalism student at Fort Meade who had visited to complete a research assignment," Aylor said. "We decided to give it a try because the sites were basically already created and maintained. Hipcamp carries a hefty insurance policy and manages the communication and scheduling, so it was just a matter of creating the profiles and uploading a few pictures."
Hipcamp is user-friendly for hosts, and that is part of the appeal for busy farmers. Creating your profile page and listing your site is free and only takes minutes to set up.
Hipcamp makes it easy for hosts to set their own schedule and block out dates they don't want visitors.
Host farmers keep 90% of the booking fee and receive their payments each week through direct deposit. Hipcamp, which keeps the remaining 10%, provides online support for hosts and a $1 million insurance policy that protects hosts in case of an accident.
Angela Aylor said her experiences so far have been almost exclusively positive.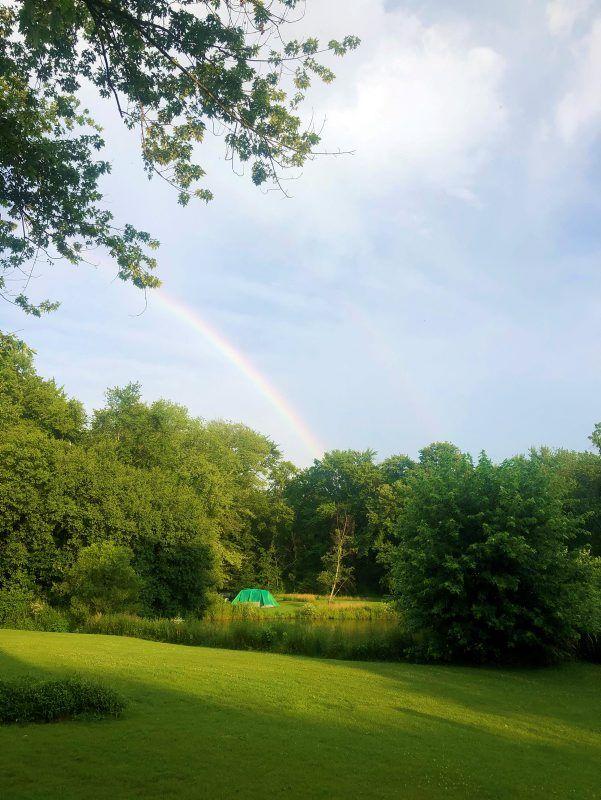 "People have come from near and far to stay on our property," she said. "We have had people stay for as little as one night, and up to two weeks."
Bookings have been steady from the spring through October, providing a nice stream of income with minimal effort.
"We've generated more income through Hipcamp than we ever did making hay in the field," Angela said.
Empty Cupboard Farm's Hipcamp Rental for Outdoor Stays
In Carroll County, Maryland, Peggy Dean of Empty Cupboard Farm was introduced to Hipcamp by neighbors Kat and Jeremy Willet.
"I was reticent to try it, but have subsequently found it rewarding to know I am sharing our little valley with others that see and reap pleasure from its nature as do I," Dean said. "What I thought might be little pocket change with little effort has become more than that for me — it has been a fresh and broad connection to the outside world during this time of concern and restrictions."
Empty Cupboard Farm was purchased by Dean's grandparents, Harry and Mary Baumgardner, in 1918, and has at times been a dairy farm, a beef cattle operation, and is now mostly in corn and soybeans.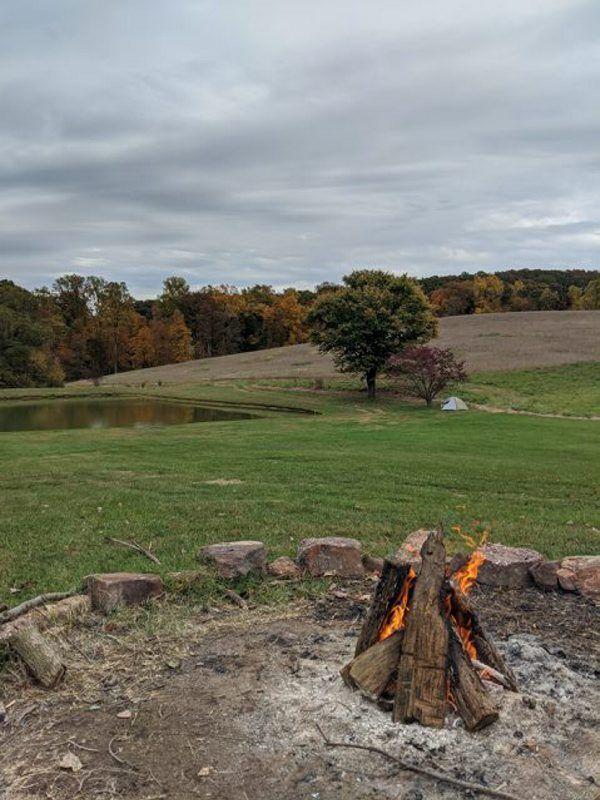 Today the farm is in preservation with three conservation programs, and Dean has new plans for a nut orchard and the renewal of lowlands with native plants.
Dean only hosts one set of campers at a time, a Carroll County Hipcamp regulation, and allows them to pick their campsite from various locations on the farm.
"Over these few months, campers have selected a variety of sites in our 8 acres of valley yard — behind the barn, by the locust tree, near the pond, near the fire pit," Dean said. "Some have fished in the pond, some have hiked, biked in the woods. Most like sitting by a campfire in the evening. All have wanted a tour of our 1886 barn."
Many have visited other farms during their stay.
Empty Cupboard Farm is a "dry camp," meaning in this case that no latrine is provided. Per Hipcamp policy, toilets aren't required on properties larger than 20 acres or on those offering only dry camping for self-contained RVs.
Hosts do need a toilet if they have a small property or intend to host tent campers.
Dean said that to her, "the bottom line is that the more city folks come to the country, the greater understanding they will have of what farming means to everyone. I have been surprised by the variety of livelihoods represented among our guests, the simplistic desire of people to just sit in an open space, and their reasons for being on the road. I have been rewarded with my experiences with these young folks, with their integrity, with their foresight and willingness to work for the future."
The Willet Family Farm, the "Favorite Hipcamp Site in the State of Maryland"
Jeremy Willet, the neighbor who convinced Dean to try Hipcamp, operates a portion of his family farm in Westminster, Maryland. The Willet Farm has survived many hardships over the years including the Great Depression, a 1999 tornado that destroyed their barn, and cancer that claimed the life of several family members too early.
"In 2006, the farm had to be sold outside of the family, but in an effort to honor past generations and preserve the heritage of what the farm stood for — faith, family and hard work — I purchased the farm back in 2017," Willet said. "The 13-acre farm is perfectly located in the middle of over 200 acres of farmland owned by my parents and cousins."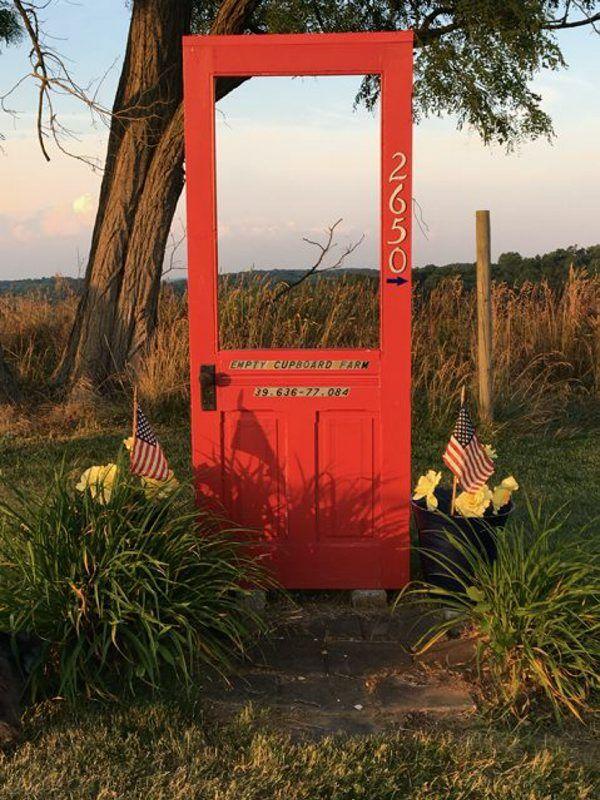 Willet says when Hipcamp contacted them in 2019, they noticed that the company's position on social issues aligned well with their mission as a farm. The Willets were already providing pay-what-you-can fruits, vegetables and eggs, rehabilitating their pond and stream, creating walking trails, designating spots for camping, and establishing an event space for experiences that inspire change through a partnership with ChildFund International.
"Since we've joined Hipcamp, we've welcomed over 200 out-of-town guests from nine different states and two different countries," Willet said.
Outside Magazine recently named Willet Family Farm the "Favorite Hipcamp Site in the State of Maryland."
Willet Family Farm is now also leading the initiative in Carroll County to have county zoning codes changed to further equip farm-owners with more agritourism opportunities, such as Hipcamp, on their property.
"The outdoor spaces for campers, the revenue stream for farm-owners and the local economic benefits from tourists for the local community creates a win-win-win situation," Willet said.
Wildom Farm
Julie Friend's 154-acre Wildom Farm is located in McHenry, Maryland, only 2 miles from both Deep Creek Lake and the Wisp Resort, providing an abundance of hiking, fishing, kayaking and boating within minutes of the farm's Hipcamp site.
Wildom Farm is a "regenerative farm raising pigs, chickens, turkeys and some produce," Friend said. "Our campers can access the entire farm during their stay and take guided farm tours that are available by request."
Their three campsites are set up in the backwoods for the Hipcampers.
"The sites are located in a private setting, away from most of the farm activity, beside a lovely creek," Friend said. "It's a pretty simple set-up, the sites consist of a semi-cleared spot and a fire ring. We also provide campers with disposal bins for compost, recycling and landfill waste. We have an outhouse with a compost toilet that is shared between all three sites. Near the barn, campers can access potable water. Campers bring their own tents. We always greet the campers upon arrival, give them a little rundown of our operation, the property lines, what we sell, what's nearby, and then escort them down to the campsites."
Friend learned about Hipcamp through a podcast, and was attracted to the company's ecological efforts and their platform which allows people to affordably access nature on privately owned spaces.
"I just think it's so cool," Friend said. "We live in a tourist area, near a lake and ski resort, and we felt that Hipcamp was a great way for us to dip our toes in hospitality with minimal inputs, costs and labor."
Friend wasn't expecting to book so quickly and so consistently throughout the season. Within the first couple days of listing the site, she had bookings, and continued to be fully booked almost every weekend. While the fee to camp is only $50, Friend's inputs were minimal and campers often add on farm-tours and buy farm products, like chicken and eggs.
Chris and Katie Davis of Watsontown bought and planted 1,500 lavender plants in the spring of 2019. It's now a location for purchasing a bouquet of the sweet-scented, soothing plants. Essential oils can be squeezed from the blooms. And the picturesque fields of plush purple are like eye candy to visitors.
"I'm surprised, in a good way, by the amount of people who come from cities with young kids to get them out in nature exploring," Friend said. "It's so awesome to see their family trips to our farm, watch them interact with the animals, hear the questions they ask on tours, and really just witness them connect with the land and their food in a way they have never had the opportunity to before."
The Button Farm Rounds Their Third Year on Hipcamp
The Button Farm is located within Montgomery County's Agricultural Reserve, in the midst of Seneca Creek State Park. Their Hipcamp listing notes that "we are a working small farm, so do expect the occasional hubbub from our geese. "
They have two Hipcamp sites on the farm, and this is their third year as a Hipcamp host.
"The first two years provided us with a modest, but welcome, additional revenue source" said farmer Steve Gillick. "When local COVID restrictions were lifted for camping this year, we weren't sure if we would get visitors, but bookings have gone through the roof. People are seeking places to get away yet remain safe during the pandemic."
Gillick learned about Hipcamp from another local landowner who sang its praises, so he decided to give it a try at his farm.
"Our experience has been overwhelmingly positive," Gillick said.
He said that the Hipcamp staff is very helpful and that their booking system is comprehensive and easy to use.
Hipcamp River Location, Bald Eagle Farm
Bald Eagle Farm is located on the Patuxent River in southern Maryland.
"The farm has been in my partner's family for three generations," said host Karyn Owens. "In the past, he raised tobacco and cattle and has now converted to growing mostly hay and grain. I also raise KuneKune pigs, which have become a fan favorite of the campers who stay with us. The farm encompasses nearly 300 acres on the Patuxent River, including 150 acres of marshland and 100 acres of woods."
Owens heard about Hipcamp through a friend about two years ago and was intrigued. When she noticed there weren't a whole lot of options in southern Maryland, she thought it would be a unique opportunity for people to experience the area, and enjoy the several parks and local businesses nearby.
They selected two sites for camping, one by the pond and one by the river, that are approximately a half mile apart and very secluded.
"We wanted to share the views and the experience of sleeping under the stars on this beautiful, secluded farm," Owens said. "Campers will hear nothing but the wind, birds, frogs and insects while dozing off or enjoy the dark sky and campfire."
They had a few campers every few weeks last fall, but like other sites, they had a major surge in the spring and summer with people looking to spend time outside and be socially distant
"We've really loved it so far and met so many incredible people from all over the Delmarva area and beyond," Owens said. "I've been blown away by the positive feedback we've gotten and how many people have already returned."