KEEDYSVILLE, Md. — "Instead of a potential hop industry in Maryland taking 30 years to germinate, maybe we can speed that up with the University of Maryland and our firepower," said Ben Savage, chief marketing officer of Flying Dog Brewery in Frederick. "As the largest brewery in Maryland and a leader in the industry we thought, 'how do we take a leadership role.'"
Flying Dog would love to brew with local hops and has entered into a partnership with the University of Maryland Research Center in Keedysville to scientifically determine the viability of growing hops in Maryland.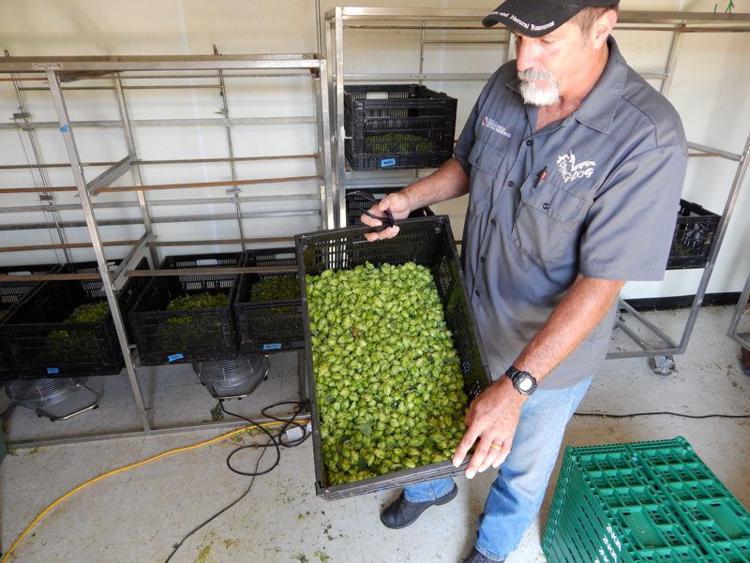 "At the end of the day, we knew that the whole craft beer movement is very much in the same vein as the slow food movement," Savage said. "People want to know where their products are made, where their beer is brewed and where their food is from. They want to understand the ingredients and there is an allegiance to locally sourced products."
Savage said he wants to make locally sourced beer, but he started to notice that the local hops were not always the same quality as the hops he was getting from the Northwest.
"Local isn't enough," he said. "It needs to be in a certain quality and we wanted to work with Bryan Butler and his scientists at the University of Maryland to see if it is even possible to grow good hops in Maryland."
Butler, a University of Maryland Extension agent, explained that the partnership with Flying Dog started with a hop harvester. The partnership allows hops to be harvested and processed, and data to be collected from that.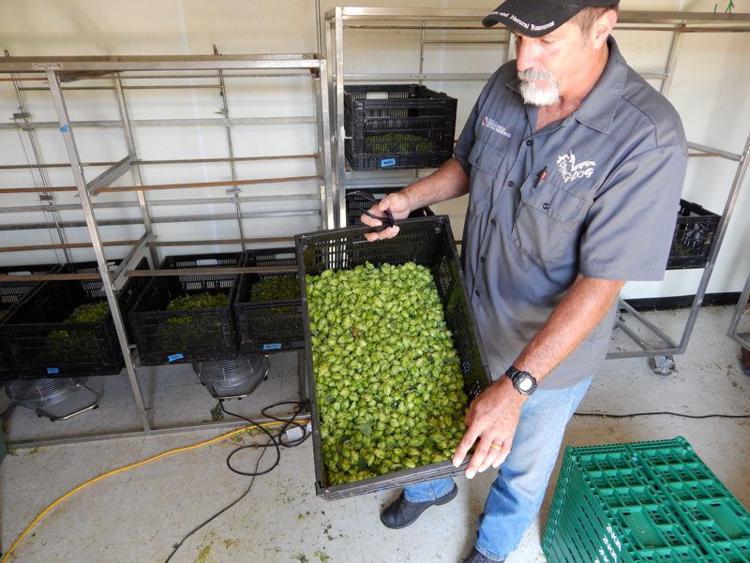 "This experiment began three years ago and went in three installments," Butler explained. "The first 12 varieties including Cascade and Chinook were things that people were growing. For the next year, we asked growers to see what people are using and we came up with the second 12 varieties we planted. We have been collecting the data and after two years we picked the top six varieties and planted them in the hop yard below."
Butler explained that hops needs a lot of water, a lot of fertility, and struggles with weeds and insect pests.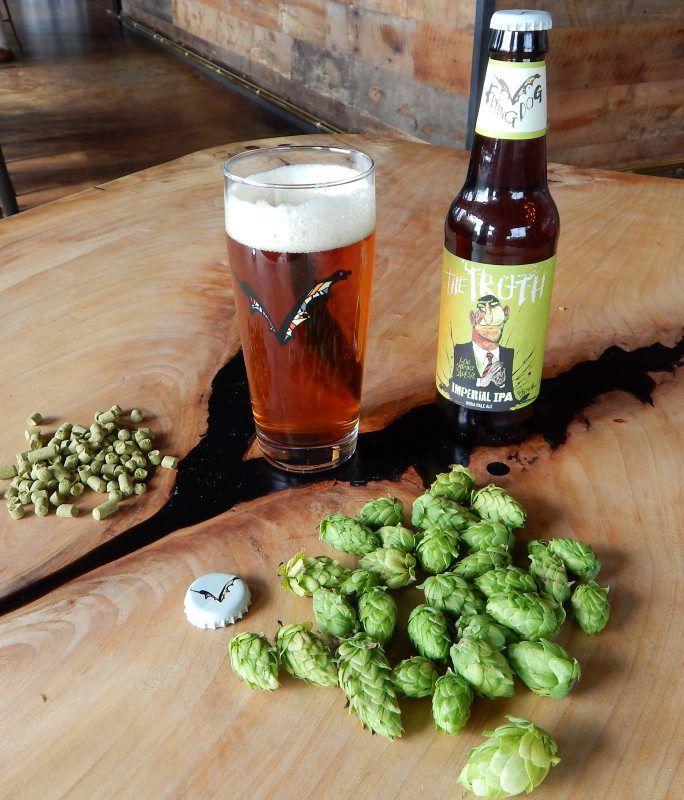 Before Prohibition, 20% of the hops going into beer brewed in Baltimore was coming from Carroll, Washington and Frederick counties.
"We want to identify those varieties that can really produce," Butler said. "Southern Cross was a top performer and Flying Dog liked it a lot, but after the last season with all the wet weather the plants were almost killed and it has not produced much at all 2019. We are hoping that it can come back."
The study has found that Canadian Red Vine has the best yield, around 1,500 dry pounds per acre, but the flavor has notes of garlic and onion, which is not a very good hop for beer.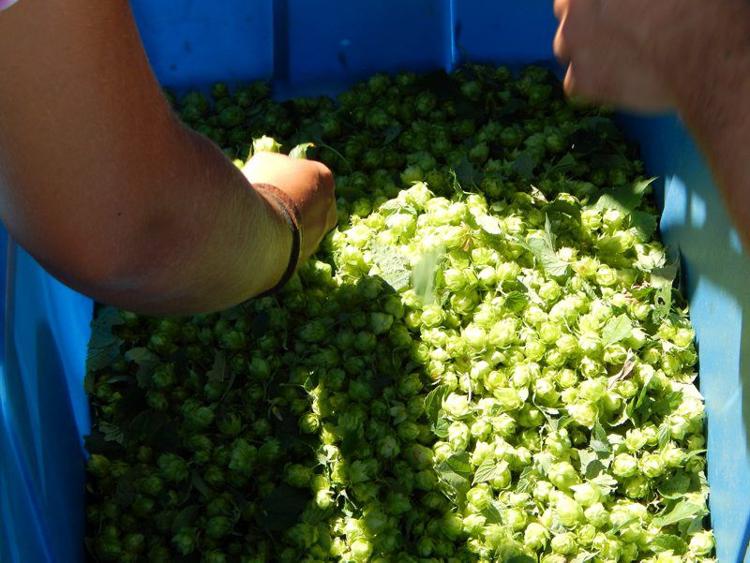 "For making beer, Southern Cross, Amelia, Southern Brewer, Glacier, (and) Zeus are up there while Wilmer, Cascade and Chinook are kind of hanging in there," Butler said.
Last year, two of the commercial varieties dropped out of the study allowing two local hops to be added to the study. They have been grown non-commercially on local farms for almost 100 years in Smithsburg and Frederick.
"The Lion hop from Smithsburg is quite exciting," Butler said. "I have been propagating from the Lion hop so that we can do the evaluation. It will be interesting to see how they grow as they persisted for a long time without a lot of care. I am very optimistic."
The conditions for growing hops will never be as ideal as the conditions in the Northwest, but that doesn't mean that local hops is impossible.
"We may not be getting the big juicy varietal citrusy hops from the Pacific Northwest but there may be perfect varietals from this area that may impart a direct unique characteristic from this area," Savage said.
The harvesting of the hops finished on Sept. 9.
"If you pick them too green the beer will come out too grassy and if it is too late you accentuate those garlicky, oniony layers," said Butler.
"Harvesting hops is hot and itchy and it is not the favorite job on the farm," said Doug Price, University of Maryland ag tech. "We use a hedge trimmer to cut the hops off and then put them in the hops harvester machine which has a bunch of beaters in there that removes the hops and puts them in the bin. We started about a month ago off and on as the varieties come ready."
Aside from purchasing the harvester, the process and the equipment had to be formalized and acquired. The researchers had to figure our how to dry, grind, pelletize, and vacuum pack the hops.
"There is a very limited market for handpicked hops," Butler said. "A dry pellet that has been vacuum packed and frozen will last for quite some time and that gives them flexibility in how and when they use them."
Flying Dog appreciates the expertise the University Research Center brings to this partnership.
"We rely on their science," Savage said. "Generally there is a standard that the hop oils, potency or aroma level and the processing is the make or break on hops. You can grow a perfect hop but if the processing is wrong it is not brew worthy. When Bryan figured out how to pelletize, this set the expectation that we needed."
Savage is hopeful that they will be able to find a variety that grows well in Maryland and offers a unique flavor.
"If hops in Maryland have a unique profile that people enjoy that would be a great win," he said. "If it becomes a viable hop for a white beer and everyone in Maryland grows them, that is a win."
Butler and his team are documenting their hops process to benefit potential growers.
Flying Dog is about to enter its 30th year. It brews 105,000 barrels of beer each year.