KEEDYSVILLE, Md. — Brewers' quest for local beer ingredients is getting easier thanks to research at the University of Maryland Western Maryland Research & Education Center.
The research hopyard was a stop on the July 17 hop tour organized by the Southern Maryland Agricultural Development Commission and University of Maryland Extension.
About 30 attendees endured temperatures in the high 90s with a barely noticeable breeze to learn about this plant, which grows in long strands called bines and produces cones that give beer its distinctive flavor.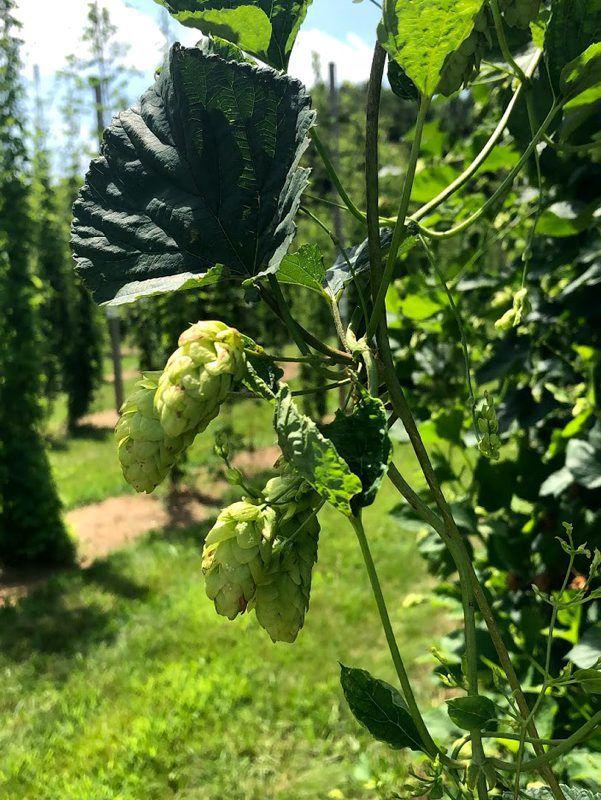 The university's half-acre hopyard contains 24 hop varieties in three replicated research plots.
It is managed intensively with regard to fertility and irrigation, as well as insect, disease and weeds using integrated pest management principles.
Standing among the towering 18-foot trellises, Extension agent Bryan Butler, who manages the hopyard, elaborated on his past two years of research.
The Amallia, Glacier, Southern Cross, Sorachi Ace and Vojvodina varieties have been standout performers.
Butler said he focuses on varieties that are both agriculturally and commercially viable, and that farmers can easily get from a nursery.
Butler recently added a new trellising system designed for the state's climate.
Created by a Maryland-based greenhouse company, it uses galvanized metal poles, which are better able withstand humidity and require less maintenance than pressure-treated wood.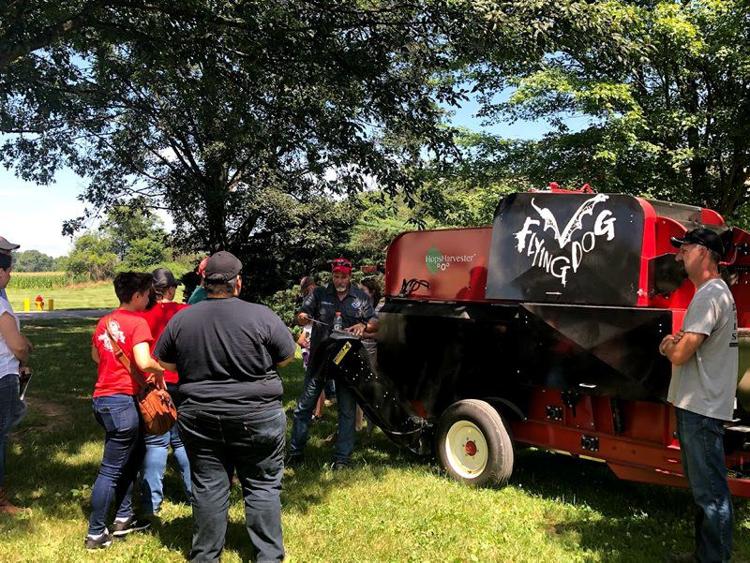 Flying Dog Brewery in Frederick helped fund the research station's hop harvester, which has increased the accuracy of yield data.
"Trust me, you don't want to harvest this stuff by hand,'' Butler said.
The brewery recently released Field Notes Pale Ale, a beer made exclusively with hops grown at the research center.
The tour also stopped at Milkhouse Brewery at Stillpoint Farm, billed as the first farm-based brewery in Maryland.
Tom Barse, who owns the Mount Airy business with Carolann McConaughy, lobbied for Maryland's 2012 farm brewery law and opened shop the next year.
The farm has a 1-acre hopyard growing the Cascade and Chinook varieties.
The farm specializes in classic styles of beer — "improved with Maryland hops," Barse said — and produces five year-round beers and a couple of seasonal releases.
Lending credence to the brewery's "Drink Beer Grown Here" tagline, the Stillpoint Reserve line of beers is made with only locally sourced ingredients, including hops, grains, fruits, herbs and honey.
A beer tasting provided a fitting conclusion — and a bit of relief from the sweltering heat.
"What I loved most, though, is seeing the passion and commitment that both Bryan and Tom have for this industry," said Karyn Owens, program specialist at the Southern Maryland Agricultural Development Commission.