FRUITLAND, Md. — The University of Maryland is looking at some alternative crops which could bring big rewards for small farmers on Delmarva.
Crops like hibiscus, turmeric, callaloo and ginger are being studied on the University of Maryland Eastern Shore campus near Fruitland.
"My job is to educate the farmer and give them more tools to work with," said Dr. Nadine Burton.
Burton was one of the presenters at the 17th annual Small Farm Conference held at UMES on Nov. 6 and 7. She offered tours of some of those projects on Friday, Nov. 6, while the second day of the conference on Saturday, Nov. 7, was held virtually this year.
She showed the audience a high tunnel full of hibiscus plants. The bright red blooms and their center parts called calyces can be harvested and sold for about $15 to $20 per pound. They are used extensively in tea, but can also be used in drinks, jams, puddings, cakes, wine and beer. The plant is very high in antioxidants.
Several breweries, including one in Chincoteague, Virginia, now offer a hibiscus beer.
Hibiscus is a labor-intensive crop because it is harvested by hand, but Burton feels that small scale cropping can be beneficial. Her tour showed hibiscus grown both in the high tunnel and outside, although the high tunnel crop appeared healthier. It germinates well and grows quickly. The high tunnel plants began in June and were so large that she can't walk between them, prompting her to say she will start them in August next year.
Hibiscus Does Not Have to Be Grown and Shipped From Other Countries
Traditionally, hibiscus is grown in Sudan, India and Malaysia and shipped dry.
"Hibiscus is found to be a high value alternative crop that can be introduced in the Delmarva cropping system. Due to its high labor intensity at harvesting, it is suggested not to grow on large scale. Small amounts can generate a large volume of value-added products that may increase farm income," said a UMES Extension handout.
"Every ethnic restaurant around sells this," Burton said. "You make value added, and that's where you make your money."
The researchers selected crops thought to have health benefits. It's meant to take advantage of consumer interest in healthful foods that can boost vitality and immune systems.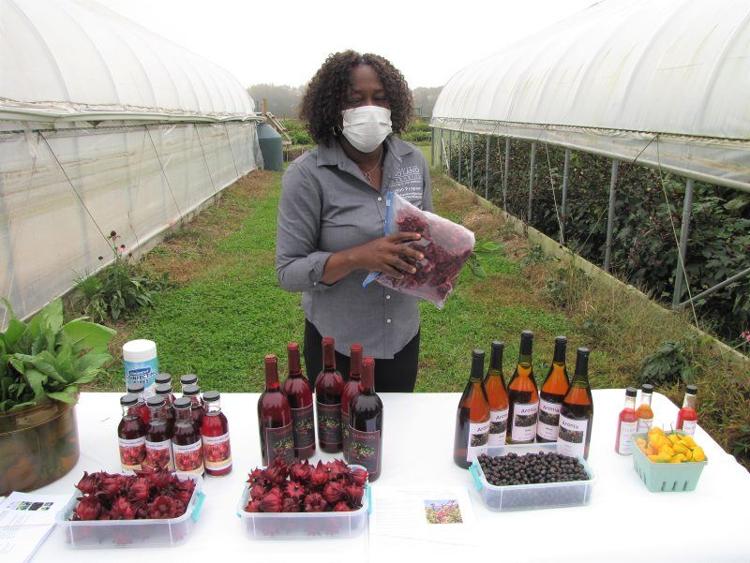 She said consumers today aren't just interested in filling their stomach, but are asking "what is it going to do for me?"
Health Benefits of Callaloo
Callaloo, a Jamaican green frequently served cooked with tomato, onion and seasonings, is very high in iron and may help control hypertension. Turmeric is believed to help control inflammation and several of the crops, especially aronia, are very high in antioxidants.
Callaloo is considered to be somewhat similar to spinach, but has a stronger flavor. One high tunnel was filled with pots of both turmeric and ginger, while hemp, Scotch bonnet peppers, hops and aronia were also grown this year.
"It's not easy to get farmers to buy into new concepts," Burton said. However, she is convinced that there is a market and that some of the crops can be grown successfully by area farmers.
"If you start small, you can make it," she said.