A new farmers market has bloomed in southern Anne Arundel County, Maryland. The Sunday Market at Honey's Harvest Farm is not your average farmers market.
On Sundays, market days on the farm start with a nature walk at 10 a.m. that offers customers insight into the permaculture/agricultural techniques and processes used to grow the food and herbal supplements produced on the farm.
Guests graze their way through the permaculture gardens, and depending on the season, can enjoy Nanking Bush cherries, Goumi berries, juneberries, mint, wineberries, raspberries, blackberries, mulberries, pawpaws, black walnuts, Aronia berries, apples and more. They also get to tour the Food Forest Gardens, which include 10,000 fruit and nut-bearing trees planted on site with the Maryland Department of Natural Resources.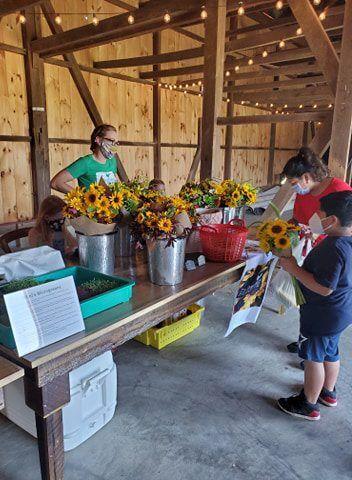 After touring the farm, guests shop in the farmers market.
Farm owner Anna Chaney, who hosts The Sunday Market at Honey's Harvest Farm, has for years been on the forefront of several new and emerging agriculture and food movements. The premise of her farm is based in permaculture and in growing native plants and trees to create what she calls a "food farm." Chaney has a forestry grant for planting trees and the farm is in conservation as well.
"This new collaborative farmers market is founded on the belief that when we share nutrient-dense, healthy products and offer insight and information about nutrient-dense foods, herbs and healthy practices that we can help create a healthier, happier community of farmers, neighbors, friends and guests to the farm," Chaney said. "Honey's Harvest offered this space so that people in southern Anne Arundel County, and any interested visitors from around the state, could have a spacious and safe outdoor option for families to visit responsibly, and for farmers to get their products out to our community in a supportive and safe environment."
Honey's Harvest Farm sponsors the market, which is currently open every Sunday from 11 a.m. to 2 p.m., and provides the open-air barn, parking, restroom facilities, and the farm grounds. The other participating farmers help out by contributing to social media marketing and promotion and to road sign expenses.
Stacy Eckels of Windermere Farms has set up the Sunday Market Facebook page and posts weekly on behalf of the market.
"The creation of the market came from necessity, as more people are looking for healthy food options that are grown and produced locally," Eckels said. "Our customers know when they shop at the Sunday Market that everything they purchase is grown within 15 miles of the farm, and grown naturally without man-made chemicals. I don't know of another farmers market in our region that holds to these standards. Demand for products is high and all the vendors are seeing their businesses grow; most of us are now looking to hire more help, so we can meet the needs of the community.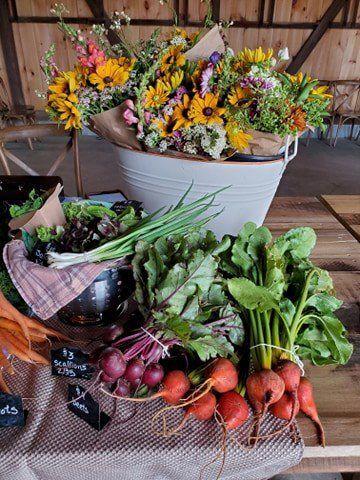 Chaney said the evolution of Sunday Market at Honey's Harvest Farm came about fairly naturally.
"During the winter months, Honey's Harvest Farm launched our own little farm market featuring Honey's Harvest's organically grown products including elderberry syrup, herbal tinctures, hemp CBD oil, popcorn, sweet potatoes, (and) herbal teas," she said. "We were open every other Sunday in January and February. We invited two other local farmers to join us with their complementary products — Morris Hill Farm's grassfed and pasture-raised poultry, pork, duck and eggs and Mimi's Microgreens. Our following grew and we had lines out the door."
"Then, COVID hit," Chaney continued. "We closed for a couple of weeks while we scrambled to get online stores, websites and more social media presence. We all offered pre-order and pickup or delivery options as each farmer could. Then, we opened back up for pre-order and pickup only at the farm and moved to a larger, open air barn adjacent to the little farm market. We all agreed to open every Sunday for pre-order and pickup only. As the restrictions lifted, we offered products on site for purchase and invited a few more farmers to join us including Windermere Farms, Fairytale Farmette, and Three Dummies Produce. We aspire to create a space where local farmers with similar farm brands and agricultural practices can offer their products in a safe, supportive and sustainable environment."
While Chaney says business is not quite back at January and February sales levels, they have all committed to working together to increase their social media presence, and to getting their organically raised products out there to our community.
Currently, the participating farms at the market include Honey's Harvest Farm, Morris Hill Farm, Mimi's Microgreens, Three Dummies Produce and Windermere Mushroom Farm, and several others are in the application process.