TIMONIUM,  Md. — "I have personally never seen a mammary system on a cow like this cow," said judge Ryan Krohlow about the winning Holstein, Highcroft Absolute Lily-Red at the Maryland State Fair supreme dairy show on Sept, 2. "She has so much height, so much width, bloom and veination, all the way through that mammary system — that this is something we are not going to see again for a long, long time."
The supreme champion was a 5-year-old Red and White Holstein who was showed and won in the black and white Holstein show. Highcroft Absolute Lily-Red is owned by Glamourview Farm in Walkersville.
"She is an incredible cow with a bright future and will go on this fall to do marvelous things," Krohlow said.
Judge Chris Holcomb of Florida said, "We've got to have strength from our cows. I look for a balance of strength and dairyness together. They have to be dairy as they have to make milk and they have to have strength."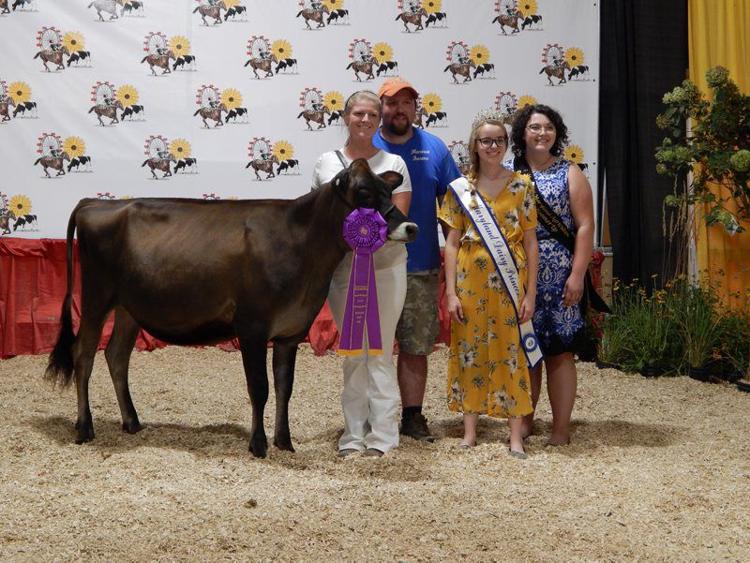 Steve Wagner traveled from Maine to judge the Milking Shorthorn, Brown Swiss and Red and White shows.
"We are looking for the complete cow with a lot of balance, great angularity and a great mammary system," Wagner said. "We want cows that move great on their feet and legs. The numbers have been down but the quality has been just extraordinary. These are just great cattle that will move on to the next level and compete very, very well."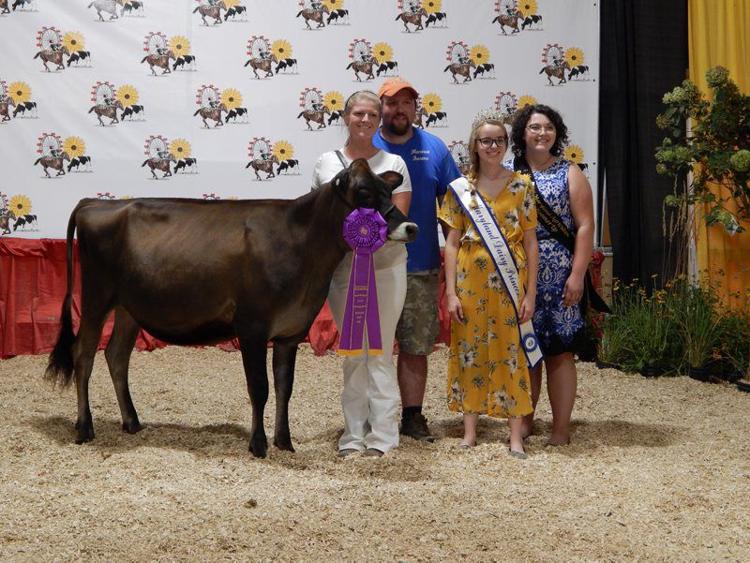 The Milking Shorthorn grand champion female was Daysland Acres Clancy Della, a 2-year-old owned by Daysland Acres, Katie Albaugh Stevens, of Frederick, while the Brown Swiss grand champion female was Radical Goliath Goodluck, a 3-year-old exhibited by Cindy Warner and Terri Packard of Boonsboro.
South Mountain Jersey's Ernest Kueffner and Terri Packard of Boonsboro exhibited the 4-year-old grand champion Jersey, South Mountain Voltage Radiant.
"I judged the Guernsey open show," Holcomb said. "There is some very good quality here although the classes are not real big. There are a couple out of here that are going to be All-American nominees if not All-American."
The Guernsey grand champion Springhill Mento Jamaica-ET was a 4-year-old exhibited by Warwick Manor, Kevin Stoltzfus, of East Earl, Pennsylvania.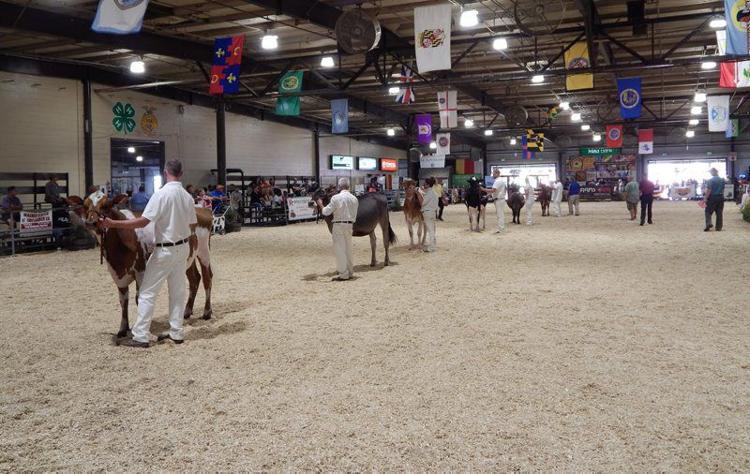 Glamourview Farms exhibited winning animals in several breeds in addition to the supreme dairy cow. The 3-year-old champion Red and White Holstein, Clairol Bozeman Millie-Red was theirs and they also entered the 2-year-old Ayrshire grand champion Old-Bankston JC Banner and had the Guernsey junior champion Knapps Apie Time to Show-ETV. The Holstein junior champion Budjon-Abbott Avl Anitta-ET and the Brown Swiss junior Cutting Edge S Ophelia-ET were also from their farm.
The winning junior supreme was the Jersey Dream-Valley Gentry's Party, a summer yearling shown by Elizabeth Acel and owned by Michael Bosley, of Glen Rock, Pennsylvania.
"It is pretty awesome," Bosley said. "I've been coming since I was 2-years-old and it has been our goal to come here and get such an achievement against such strong competition."
The Ayrshire junior champion was exhibited by Peyton Heeter of Shade Gap, Pennsylvania, and Sunny-Acres BKing Koincidence. The Red and White Holstein junior champion was Cash-Al defiant Lady-Red of Pampered Acres, David Schemer of Galena.
Taking the Milking Shorthorn junior honors was Krauses LS Naomi 682P from Krause Dairy LLC in New Enterprise, Pennsylvania.