HURLOCK, Md. — Pop's Old Place is a farm of great generational significance, bolstered by the refreshing quality of authenticity and a visibly ambitious attention to detail.
Reverence for the past stems from the familial history of a farm dating back more than 100 years.
Darlene Goehringer is the current steward of the property. Along with her husband, Goehringer tends to cattle, as well as pigs and sheep, selling the entirety of her cuts steps from where both she and the animals were raised.
"I grew up a half mile down the road, so it's called Pop's Old Place — this really was Pop's old place, Goehringer said. "When we would move equipment, Dad would say, take that down to Pop's old place. They had a small old house on the rise of the land. When they came here in 1909, they worked it all with horses. This is where my grandfather grew up. I've been on this ground since forever."
Happily absent from the conversation is any air of trendy context. The ways of life performed here are hereditary and genuine.
"When I was a kid, we'd have 10 or 12 sows so when babies were born, we'd have 100 pigs around, 25 or 30 cows, we never had sheep. But we processed all of our own stuff. So, it's not foreign to me. I grew up with livestock," Goehringer said.
In those days, processing animals occurred on the farm, as they solely helped to meet the needs of hard-working farmers and their families alike.
"All my aunts and uncles and their children would come. Dad had a shed and we would pull the farm wagon in there and a scrapple pot and lard pot were outside. My brother would kill and dad would scald and scrape and we had family down the road who would come and they would help us clean all of the intestines for the casings. We ate pork tenderloin for breakfast and scrapple that was like porridge for lunch. I could still do that," Goehringer said.
She approaches the butchering process unabashedly, but now as a seller of meat, unfortunately problems arise logistically for her to keep the process completely in house.
"I looked into mobile processors, I thought that was something I wanted to do, she said. "The bad thing is the farmers have to have coolers to hang them, farmers would have to have some pretty serious equipment on the farm."
Nonetheless, Goehringer's approach to raising livestock is very personal. She exhibits a strong connection to her farm and livestock, not least of which is her herd of rare cattle, Randalls. She described the involved process by which the cows made their way to Pop's Old Place.
"I just got so tired of the meat that I was buying not tasting like I wanted. And then it just snowballed," Goehringer said.
The genesis was a meeting with Ginger Myers, who works for the University of Maryland Extension near Frederick. The focus of her questions for Myers was specific.
Myers had Dexters and Belted Galloways. When Goehringer asked how she decided on the two breeds, Myers said it was because they ranked high in taste tests for grassfed meat.
"So obviously, I said, 'well what came in number one?'" Goehringer said.
Myers responded by referencing Randalls, a breed that dates to the 1700s, but complicated the conversation by telling Goehringer, "you'll never get them."
Goehringer had never heard of a Randall, but the intrigue led to research, and research pointed her toward Cynthia Creech, a woman Goehringer credits for saving the breed. Barriers interrupted any progress for communication as Creech lives remotely in New York with no internet or cellphone reception, but Goehringer persisted.
"I ended up writing her a hand-written letter. At some point, she called me and I had to pass the sniff test on whether she was going to trust us. She had sold starter breeds to people and starter herds to people in the past and they never had even had cows, and then all of the sudden, six months to a year in to it — her life's work — and they say, 'Oh my gosh, these cows are a lot of work,'" Goehringer said.
Ultimately, Goehringer left a strong impression and Creech agreed to sell her three females and a bull.
"I got up there and one of the farms that the third cow was at, the gentleman wasn't well, so I came home with two cows and a bull. And then I used that bull once and bred the girls, bred them back after they gave birth and I butchered him and went and got another one. I think I made the trip three or four times," she said. "And then I bring in feeder calves so I can help meet the demand until we can get enough. But I just love them, and I like looking at them. I think that should be part of it, you know what I mean, when you've worked hard all day and you sit down and it's like, aren't you all beautiful?"
Goehringer has been raising Randalls for nearly seven years now and the breed has settled well into their home.
For many years, the soil fed truck crops, then small grains, but Goehringer has worked tirelessly to provide healthy fields for her livestock.
The need to do so is accentuated by the nature of the forage regimen.
"We don't supplement with any grain, I come out here with a feed bucket and it doesn't mean anything to them. They are forage only, some hay, grass and clover," Goehringer said.
Standing in a field of curious heifers, not the least bit spooked by our presence but instead gathering and vocalizing as part of the conversation, Goehringer talked to the processes by which she has reached this point and where the herd stands.
"Everybody gets moved," she said. "We just fenced in that 15 acres three weeks ago. And I'm going to no-till drill some annuals in there for summer grazing. So, it will take some of the pressure off of my perennial grasses for summer and they'll be more resistant to drought. God knows my plans, on paper, it all works just lovely."
The lay of the land is an ambitious project, thoughtfully prepared and utilized.
"We took advantage of NRCS grants with everything. It's just me and my husband working on this farm. My son and a friend really helped us do the posting project. But this fence here was me and a lady did 90% of it," Goehringer said.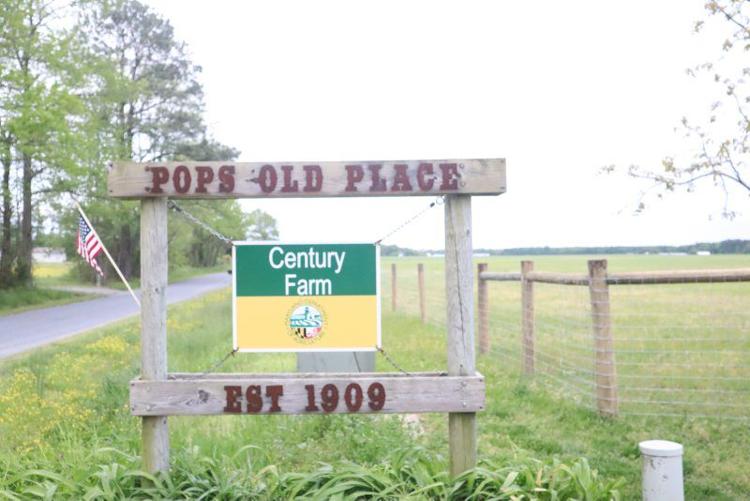 Likewise, Goehringer's symbiotic goal is to always attempt to improve the herd, trying to balance the versatility of the breed for her customers.
"Obviously, these are a multi-purpose animal — milk, meat, oxen — they're not perfect at any one of them, so I don't think it's probably the smartest choice as far as grass fed beef, but I sell direct to the consumer," Goehringer said.
Those consumers have been gleefully receptive.
Steps from her home sits a beautiful, clean store, built by Goehringer and her husband, with a large blackboard listing all the cuts for sale. All parts of the animal utilized and available for purchase. In addition to beef from her Randalls, Goehringer also sells pork from heritage breed Mulefoots she raises, and pastured lamb from the Katahdin breed. The variety is vast and the prices are fair for all the effort Goehringer puts into her work.
"It's nice and simple, the people come in, they shop the freezer, and I'm always trying to promote other farmers. So, I have a list of vegetable farmers that I recommend and people that sell chicken and turkey," Goehringer said.
Word has spread beyond the borders of Hurlock, as most of Goehringer's customers travel some distance to shop on the farm.
"I always ask people when they first come where they're from, how they found out about me. I've only had a total of four people in my ZIP code since we started. A lot of Easton, St. Michaels, Oxford, four or five regular people from D.C. People drive at least 25 minutes, most people drive an hour," Goehringer said.
A few months ago, many customers bought from Goehringer as supplement to their overall meat consumption. Amid the backdrop of an undeniable shift, all that has changed.
"My customers used to buy 25-50% of their family's meat from me, now they're buying almost 100%, and my loyalty is to them first," she said. "I'm trying to predict how many people are going to stick with me afterwards. How many people are coming to me just because they're afraid to go to the grocery store or they can't find what they want or they are limited to packs of something. I guess just trying to predict, do I ramp up what we're doing? And then the crisis goes away and then all of a sudden we have a lot of meat and don't have as big of a customer base. But I'm not really concerned about that at this point."
Ultimately, the decision will be a practical one, matching consumption against demands on her farm, and the soil therein.
"I want to grow as much as the land will support," Goehringer said.
Goehringer unapologetically speaks her mind with welcomed candor, blending practicality with great compassion, and though she has a lot on her plate already, she is eager to take on another pursuit, one that has escaped her resume to this point. She has always sought after a cow to milk, and with the birth of a calf named Elsa this spring, she will meet that goal. The birth was miraculous, Goehringer's love for her animals summed up in one exchange of many.
"I came down and she was a pretty big calf and it was a first-time heifer. And Elsa was frozen, which is how she got her name," Goehringer said. "And we took her up to the house and put her in the bath tub and about an hour and a half later we got her temperature the way we wanted and fed her and kept her in the house overnight. We brought her back out here, and her mom didn't really have a lot of milk. So now she steals milk from whoever she can get it from. She was born in March. When I got her out of the field, her internal body temperature was 88. It should have been 103."
In life, or death, Goehringer's reverence rings loudly and speaks to all that is right in farming.