CAMDEN WYOMING, Del. — Fifer Orchards held a drive-thru this week to keep customers connected to the family and farm that has been operating since 1919.
Because of COVID-19, Fifer's has been limiting sales to online ordering. Customers order produce online, pick a time slot and then show up to be ushered into a parking spot and handed a bag of goodies by friendly mask-wearing staff. They never have to leave their cars and there's no hand-to-hand contact.
Spring is a busy time here, and the strawberries and asparagus are both in full swing and heavy demand right now. However, there are no pick-your-own strawberries this season.
Instead, the family farm decided to hold a drive-thru. Cars slowly roll down dirt roads past the peach orchards with their small fuzzy fruit, strawberry fields laden with ripe, juicy berries, blueberry bushes, tomatoes filled with yellow blossoms under high tunnel cover, and the many varieties of apples available each fall season.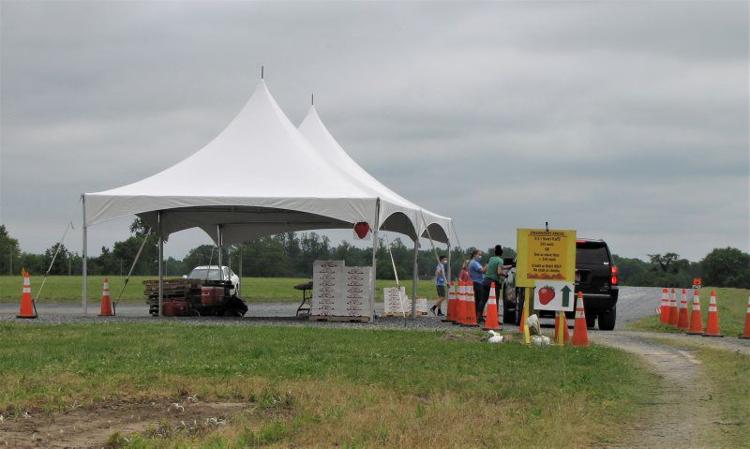 Workers pruned peach trees and assembled high tunnels as visitors drove past.
There was a steady stream of cars slowly rolling through the fields on Monday, May 25. It had been scheduled for May 23, but a "gully washer" rain soaked the fields and kept people from picking berries. There was still water laying in the fields, but farmers were hoping for some sunshine to extend the berry season. Too much rain will cause the berries to spoil.
Drivers were instructed to keep moving and to stay in their cars at all times.
At the end of the drive, customers could purchase a flat of strawberries, get some recipes and learn more about the fruit, including that it is the state fruit of Delaware.
"You'll also receive free instructions on how to freeze your strawberries, make strawberry smoothies and other strawberry desserts when you get your berries home," said a Fifer Orchards press release. "Get the entire family involved in this fun at-home kitchen activity over Memorial Day weekend. Unfortunately, we're not able to offer 'traditional u-pick strawberries' this season, however, you can still get to see the farm from your vehicle as you drive by the beautiful scenery and then get a big flat of fresh Fifer strawberries to take home and enjoy."
The orchard is repeating the drive-thru on Saturday, May 30, at the Camden-Wyoming location from 10 a.m. to 4 p.m. Drivers will again be asked to stay in their cars. Only strawberries will be for sale during the event, and no cash or checks are being accepted.
"I spoke with some friends in Florida and North Carolina that implemented drive-thru events in recent weeks on their farms," said Mike Fennemore of Fifer Orchards. "We like the concept because it keeps the customer in the safety and comfort of their own vehicle while still allowing them to still see some of the farm scenery along their journey. We've also tried to add some educational signage along the route and provide a take-home experience website link that gives the customer resources on how to use their strawberries at home."
"I think the drive-thru concept allows folks to see the true seasonal nature of the farm from flower to fruit," he added. "They will see peach trees, blueberry bushes, sunflower fields, strawberry fields, tomato plants and apple trees along the driving route. If we do this again in the future, they will see the continued progress of all of those crops in a different stage. This is part of the connection that our farm has with our local community. We can celebrate the seasons together as we move from spring harvest, to summer harvest and finally through fall harvest each year. There is a unique beauty to each season and each stage of growth. We will continue to pivot, adapt and adjust in order to best serve our staff and our customers. We will continue to look for ways to improve in a constantly changing business environment. We remain positive that brighter days are ahead."