GEORGETOWN, Del. — It's time to use all of the tools in the toolbox.
Farmers were urged to consider a more integrated approach to weed control during the University of Delaware's annual Weed Field Day on June 19 at the Carvel Research and Education Center.
The university shows off demonstration plots using different herbicides and application strategies to a few dozen people each spring. They ride though the fields, examine the plots and listen to experts talk about everything from cover crops to new weed species.
Herbicide resistance is becoming a bigger and bigger problem across the nation. Extension weed specialist Mark VanGessel said a more integrated approach, which uses non-chemical strategies, may help slow the spread of resistant weeds.
Combined with the traditional herbicides, they can provide farmers with more management options. Some of the options are a "little more forward thinking," he said.
Some of his suggestions include making sure you buy seeds from a reliable company and harvesting infected parts of fields last so those weed seeds aren't spread. Extension recommends planting soybeans in 15-inch rows because wider rows take too long for the beans to reach a canopy and allow more weeds to grow, he said.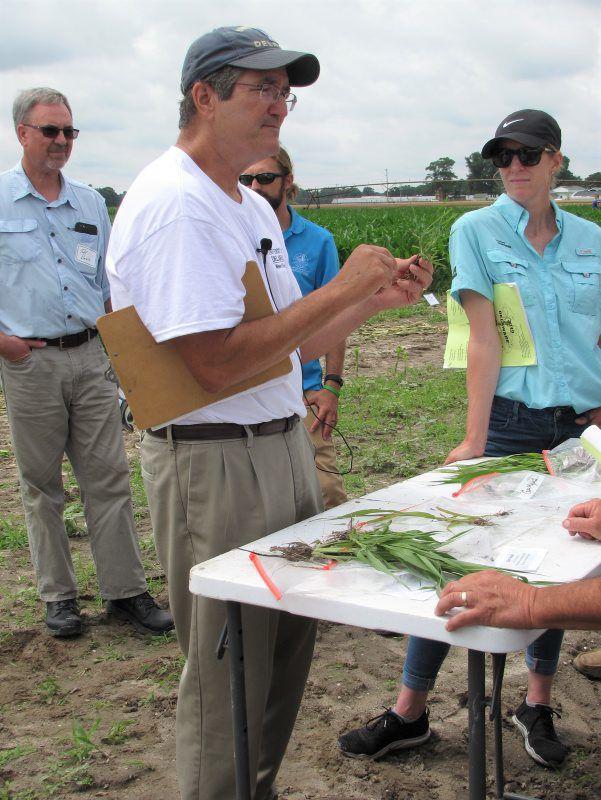 VanGessel said that farmers may want to remove palmer amaranth or other weeds by hand if there are only a few in the field. That's not usually practical, but is still an option.
Some fruit and vegetable growers, like watermelon growers, have sometimes harvested the crop and then let the fields go until spring. He suggested harvesting melons or other crops, then spraying with a herbicide to keep weeds from maturing and spreading seeds in the fall.
Farmers seem to more regularly plant cover crops, which can provide some weed benefits. Leaving the cover crop until later before doing a burndown may cause fewer problems than expected. He said last spring's torrential rains meant farmers couldn't get in the fields, so cover crops weren't burned down until later.
He suggested that leaving those crops until later in the spring season can help dry out the soil if it is a wet year. They also provide more biomass, which can help keep weeds from germinating and growing in the spring.
He said farmers are also taking a more proactive approach when they see new weeds. He said there used to be more of a "wait and see" approach if there was something unfamiliar in the field, but with weeds like palmer amaranth, a few plants can spread like wildfire.
"Those two or three plants can be a problem," he said.
He said a new weed now appearing on Delmarva is called tall water hemp, which comes from the Midwest. Goose grass, although not a new problem, is becoming increasingly common. He said the grass may be emerging later and may be germinating in between herbicide sprayings. One member of the tour speculated that warmer winters may allow the plant to overwinter.
VanGessel and others also stressed cleaning equipment between fields and if it is newly purchased and comes from elsewhere. Small seeds can hide in equipment like combines and then help spread the weed, sometimes across several states.
Research associate Claudio Rubione suggested running either straw or pine shavings through the combine to clean out seeds that are hard to reach. Top down cleaning with leaf blowers or other equipment is also recommended.
"It's about being aware of what you are bringing into the fields," VanGessel said.
A combine cleaning video and other weed management information are available at integratedweedmanagement.org.