BLOOMSBURG, Pa. — Two years ago, Dr. Pam Frenz was faced with a choice.
She had been working as a large-animal veterinarian at the Bloomsburg Veterinary Hospital in Columbia County for 11 years. When the hospital decided to focus its practice solely on pets, Frenz wondered what it meant for her future.
It turns out that the period of uncertainty ultimately became the realization of a dream.
"I didn't want to go back to the small-animal side of things, and I didn't want to move," said Frenz, who resides in Bloomsburg. "I'm connected to this area and I'm connected to my clients."
And now Frenz is connected to her own practice.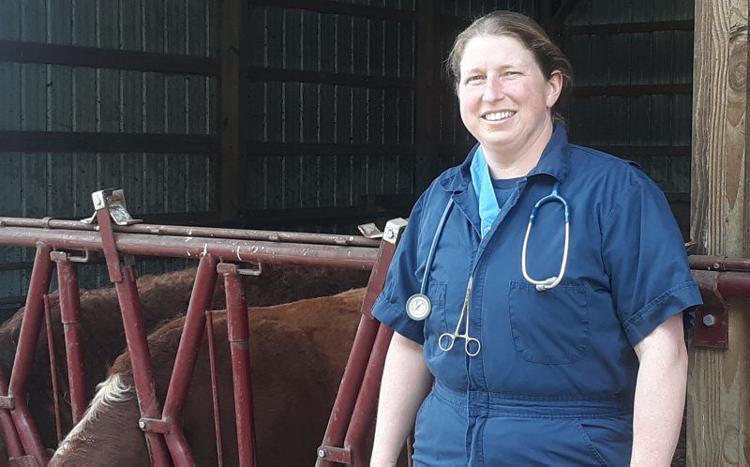 As the hospital transitioned to treating pets only, Frenz had the opportunity to purchase the large animal practice and make it her own, which she did on Sept. 1, 2017.
The move brought Frenz's veterinary career full circle, allowing her to realize a goal she had set as a child.
"I grew up following my dad around on our beef cattle farm. Whenever the vet came out, I was always right there," Frenz said. "I always knew I was going to be a large-animal vet. There never really was any serious alternative."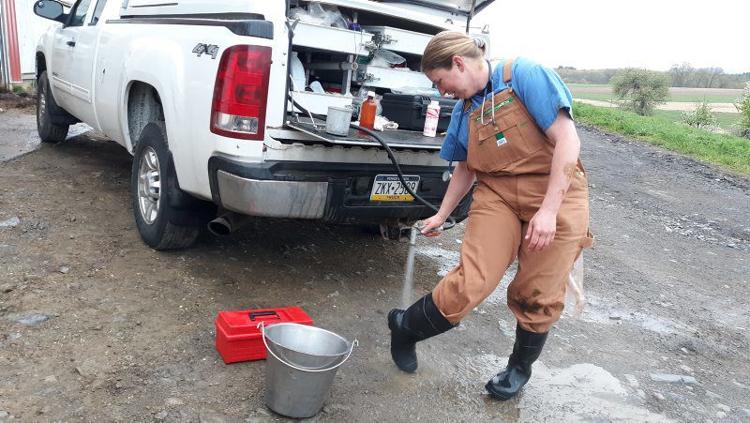 Before Frenz could embark on her chosen career path, however, she had to log plenty of years in school. She earned her bachelor's degree from the University of Pittsburgh at Bradford, followed by an associate's degree in veterinary technology from Johnson College in Scranton, and a doctorate at the Tuskegee University School of Veterinary Medicine in Alabama.
And then it was back home to Bloomsburg, where she joined the veterinary hospital and her career began to grow.
"Bloomsburg was a great experience because there were other large-animal vets there — Dr. Mike DeMarco and Dr. Jenny Kraft — who were a great help. They had tons of experience and once I finished school, I kept learning," Frenz said.
Still, the opportunity to have her own practice provided new learning experiences. In addition to responding to calls at all hours, Frenz also answers the phones, fills prescriptions and schedules appointments.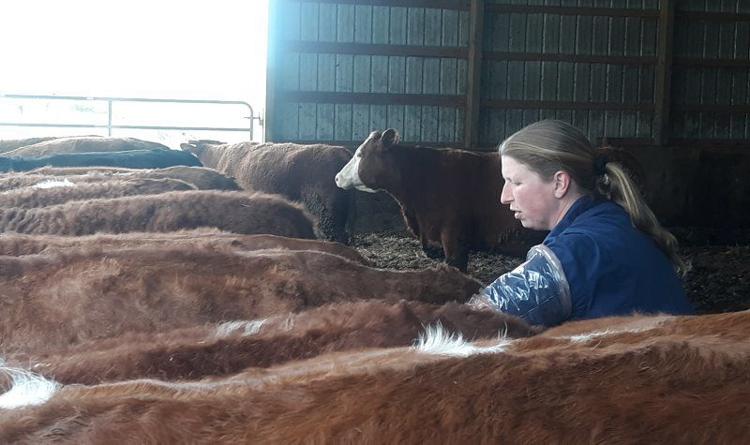 And when the Bloomsburg hospital transitioned out of the large animal portion, it opened up a wide area of clients for Frenz. She admits it's a big step transitioning from being one of several veterinarians to being on her own.
"The hardest thing for me is the work-life balance. Before, we had rotating schedules, days off, an office staff to handle billing and phones," Frenz said. "Now, I'm it. When I get home, my day isn't done, but my husband, David, has been very supportive of my pursuit."
While there are challenges with owning her own practice, Frenz is quick to point out that the rewards greatly outweigh any negatives. After nearly two years, she has learned how to do things more efficiently and never takes for granted how fortunate she is.
"Large animal is a lot more personal because you travel to where your clients live and work. There's a connection with this that you don't get in an office or exam room," Frenz said. "We're out there with (clients) and we feel personally invested in it, like they are."
Calls to treat horses or cows provide the bulk of Frenz's business. She also deals with sheep, goats, llamas and hogs. She covers parts of seven counties in northeastern Pennsylvania, and the demographics of her clients have changed.
"There aren't nearly the number of dairy farms as there was 10 years ago, but pregnancy diagnosis and reproductive issues still make up a good percentage of my business," Frenz said.
Available medications and regulations have also changed since Frenz got involved in the veterinary field. Some medications are no longer allowed for certain livestock, while there is now paperwork required for certain medicated feeds.
Government regulations and increased costs, according to Frenz, sometimes don't match the price of what a farmer will receive for an animal. The trend may leave some farmers more inclined to cull an animal rather than treat it, she said.
"Veterinary oversight is good to a certain extent, but it's an issue when the cost of care goes up and it's not matching the prices," Frenz said.
While the number of dairy farms in her area fluctuates, Frenz remains busy not only from the customers who have horses or beef cattle, but from the shortage of large-animal veterinary services in the region.
Many veterinarians graduating from school are more inclined to enter into the small-animal segment as opposed to treating cattle and horses.
"In this area, a lack of large-animal vets is an issue. If I have to go away to a conference, there are big parts of my coverage area left without any backup," Frenz said.
Fortunately, Frenz doesn't plan on leaving the area, or changing careers.
"My whole journey to get to where I am today has been the best possible path," she said. "I like being out here with rubber boots up to my knees and my sleeves rolled up. I never forget how lucky I am to be doing this."
And if she ever decides to expand the business and add another veterinarian, Frenz said, it will be someone who shares the same mindset.
"It would have to be somebody I trust to treat my clients and their animals the way I do. As a large-animal vet, you go to their homes and barns and you get to know them like family."