Jason Silverman has been grass farming for as long as he can remember. Silverman recalls memories of using model tractors and equipment on his parents' living room carpet to make small square bales. He says he was itching for the days when he could trade in his parents' carpet for grassy fields.
"I've been a hay nut since I was about 2 years old," Silverman said.
And at 33 years old, Silverman has made his dream come true. He started his custom hay business, Windrow Farms, with 9 acres in his hometown of Conway, Massachusetts. It's notable that within 10 years he's grown the custom operation to manage 45 acres. Hay farming in the Bay State can be difficult because crop farmers like Silverman are at the mercy of weather and land availability.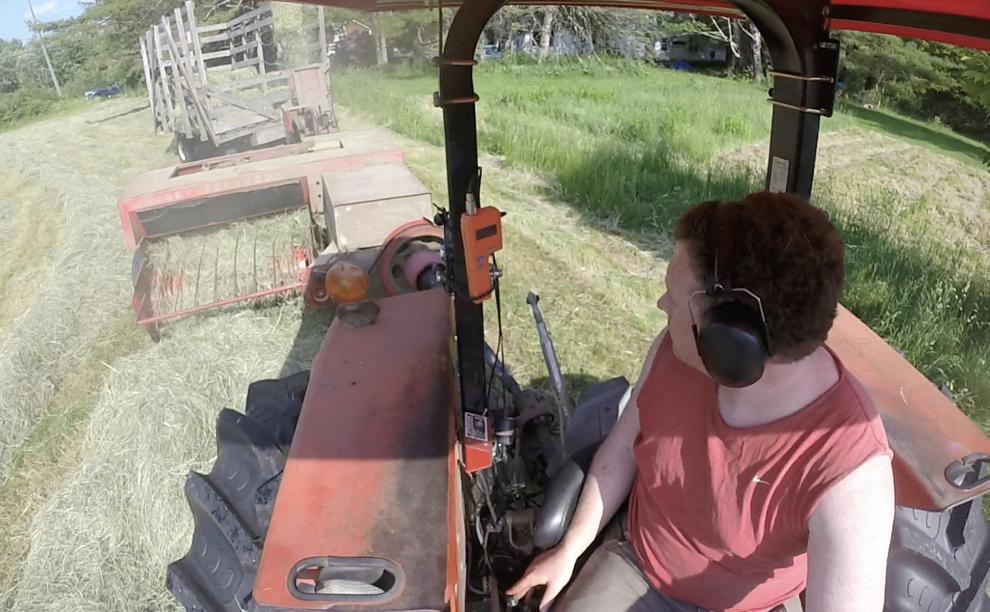 Navigating Wet Terrain 
For most of the New England region, especially Massachusetts, rain has been in short supply since June 2020, according to the U.S. Drought Monitor. Silverman started cutting hay in mid-May and had some rainfall later in the month. But he says that in June he only had three weeks of great haymaking weather before the rain moved in again in July. Since then, Silverman had been waiting for his fields to dry out and there were a few that he still hadn't been able to take the first cutting off.
"I usually leapfrog from field to field and then circle back around again for a second cut. But, all bets have been off this year. It's like playing the kid game, the floor is lava," he said. "In going to check on the fields, I had water squishing out of my boots on a hillside, which doesn't make any sense," he said.
Silverman isn't complaining about having buckets of rain, although he prefers a dry year over a wet one, so he can take more hay off, he said. But the young hay producer agrees that the additional amount of rain will replenish the groundwater re- serves in his fields that have suffered from previous moderate drought conditions. And with a new forecast of consistent sun time on Aug. 13, Silverman was back in dried-out fields trying to get any hay made before the next storm. Most hay farmers in the area like Silverman could only get about two-thirds of their first cutting done before the continuous rain in July. Silverman says that his yields have been good — about 100 bales per field, but hay quality has been down. A lot of fields that didn't receive their first cut have grasses lodged in the ground, he said.
"It's not a bumper crop yield, but nothing like last year where it was way under," Silverman said.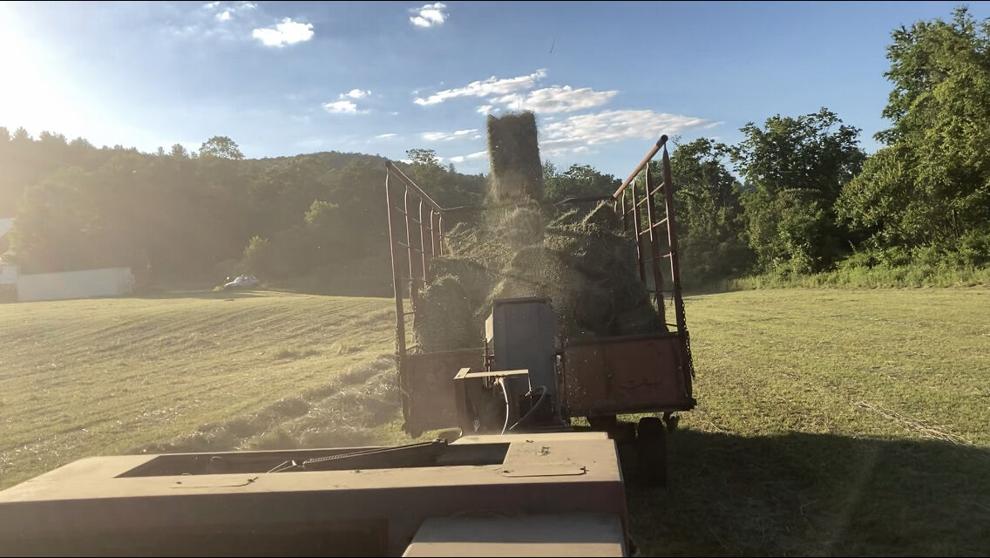 Down To the Logistics 
Gaining enough ground to make Windrow Farms a profitable business can also be a challenge for Silverman. Most of the land base in his area has a mix of larger to small fields. A lot of the hay production happens in Massachusetts "hill towns," he said. Many grass farmers are mowing 1 to 3 acres that are carved out trees and hills, and are a part of a residential property. Silverman says his biggest field is only 6 acres.
"Much of the land is not suitable for much else except grass farming because of the rockiness or slope," he said.
As a way to keep his input cost low, especially with land, Silverman has set up a "free exchange" lease system with residents. Silverman says he doesn't charge property owners for having him use their fields for hay and they don't charge him rent.
"They get a manicured field out of it. They don't have to hire anyone to mow it and I have hay ground to manage," he said.
Despite not having the cost of paying rent, Silverman still has some input costs on the fields he manages. He likes to use a formula to help his primarily timothy, orchard and native grass fields to peak performance. He conducts soil tests every two years; he rotates lime, and he applies fertilizer in late-April and again, after the second cutting, if he can. The young farmer says he rations out a ton of synthetic nitrogen fertilizer at 50 pounds at a time. He will also add some phosphorus and potassium to fields, on a need basis.
"It's really nice to nerd out on (soil), try to figure out what every field needs and try to meet that the best I can," he said.
To make up for the input costs, Silverman sells his small bale hay to his base of hay and small-scale livestock customers that live locally. The farthest customer he had one year was a farmer in Connecticut. He also has wait lists of customers, who have been waiting since last year to receive small square bales. Silverman predicts that there will be a hay shortage this year and that many of his customers will need to have hay imported because he doesn't know if he'll have enough to sell throughout winter. A shortage will probably drive hay prices up 50 cents or more. Silverman says most of the hay he'll sell will go for $6 to $7 a bale. But no matter the obstacles, Silverman wouldn't have it any other way because he loves what he does.
"The summer hay season itself — it's just that sense of living in the moment and having to long-term strategically plan at the time, but I really thrive on it," he said. "It's been meaningful to have this crazy passion of mine be a part of my livelihood."