Get the best farming news coverage at home or on the go!
Subscribers get unlimited digital access to LancasterFarming.com, Mailbox Markets, the e-newspaper, the mobile app and home delivery options.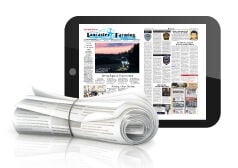 Your Subscription Includes:
Quality agriculture news and reporting
Weekly digital e-Newspaper
Unlimited access to LancasterFarming.com
2 FREE Mailbox Markets listings per month (up to a $730 value)
FREE monthly issue of Mid-Atlantic Horse
The region's most extensive classified listings
Podcasts, Newsletters and more!
For additional support contact customer service at (717) 394-3047 or email at farming@lancasterfarming.com
*Introductory offer not available to current subscribers or if you have stopped in the past 30 days.